Featured Item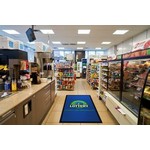 3'x5' Floor Impressions™ Indoor/ Outdo...
Our new promotional mat provides a lasting impression of your brand. Designed for high traffic areas, Floor Impressions™ logo mats are made of durable Nitrile rubber (backing for oil resistance and fl...
$171.58 - $279.62
Welcome to DoWilco.com
What is a promotional product?
You see them and use them every day. Look around your desk. Is there a pad of paper with a logo? Do you have a favorite pen with a logo? A letter opener given to you by a business associate? Does it have a logo? Maybe it has a name and number on it?
How about your coffee mug? Do you remember where you got it? What about that tote bag you still use or that cooler you drag to the beach?
DoWilco takes everyday items and turns them into powerful marketing tools.
Use our search utility to access nearly 1,000,000 different promotional products. After you look around for a bit your next move is to call us. We will help you navigate the endless supply of product options to help you put your best (logo) foot forward. The right product or combination of products expertly emblazoned with your logo has the potential to build your business. Our job is to help you find that potential and help build your brand.
We have been making customers (not just sales) since 1960. (50+ years!) Why not get in touch and figure out why?
DoWilco is celebrating 50+ years of building other businesses. Contact us to see what we can do for you.
| | |
| --- | --- |
| If you looking for T shirts, sweatshirts, or anything screenprinted or embroidered please see the DoWilco Wearables catalog. | |
Signature Showrooms